Winter sports are an activity or hobby that some find difficult to take the plunge with. It's easy to argue that, especially when you're not sure you're going to be good at it, it can be quite a pricey and hazardous occupation. However, if you find the right deals, try them out with the right people and get quality tutoring, there's no reason why you won't fall in love with winter sports. Not only are they fun, but they take you to some remarkable places.
Scenery
It is the scenery that draws many to winter sports. Glistening, sharp peaks break the skyline and provide a canvas for the painting of snow, trees and slopes that make up the exciting landscape of a good winter sports location.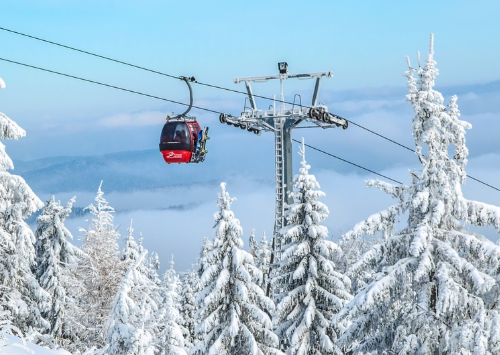 Even people who do not take part in a sport themselves will adore spending time here, going on walks, visiting bars, and meeting new people. 
Few other sports provide you with the opportunity to munch on hot, crisp French fries at altitude in between sessions. 
Learn Something New
While taking to a skiing slope for the first time might seem daunting, no doubt learning new skills and discovering new experiences is in human nature. Locations like the Camelback Mountain Resort provide the perfect environment for learning, relaxing and having fun. It can help to find Camelback Mountain Resort Coupons to save money on passes and equipment, making your foray into winter sports more cost-effective. 
Starting children on winter sports young is giving them a fabulous advantage in life; many first-time adult skiers have bemoaned the fact their knees are wobbling while kids are zooming around them as if they were half-human, half-penguin. 

Après Ski
One of the genuinely unbeatable parts of skiing is the après ski experience. The "after ski" is the name given to the social activities which take place between finishing skiing and going back to your lodge for a good night's sleep. 
Live music is a staple and while drinking heavily is the stereotype, it doesn't have to be that way. Many lounges and bars offer quiet, atmospheric locations for a hot drink, soft drink, beer or cocktail around a fire pit or in front of a relaxing live band. It's a part of your sport-cum-holiday experience that isn't replicated in any other type of trip.
Health Benefits
Finally, one mustn't forget the real health benefits of winter sports. The pure atmosphere is, quite literally, a breath of fresh air, while the cold temperatures will push your heart to pump harder and improve its own wellbeing. Winter sports are excellent for your endurance, and many of them engage your core, building body strength. 
Winter sports are also fantastic for your mental health. Getting away from the business of cities, away from pollution and into a more serene environment has physical benefits but also helps clear and organize your mind, too. The après ski scene helps you connect with new people and reconnect more intimately with your friends and family.