We have to work at relationships. We have to put effort into showing love and attention to our partner. Often when we are busy with work and family and other commitments it we forget to stop and make time for our spouse. Getting comfortable in relationships and falling into habits of not making time for each other also snuff out the spark that keeps your love alive. Being busy or complacent are not good enough excuses to let your relationship fizzle out. Even the smallest gestures can keep you and your sweetheart from drifting apart. Do these 10 romantic gestures this winter so that your spouse knows that you love them and keep your relationship from growing cold.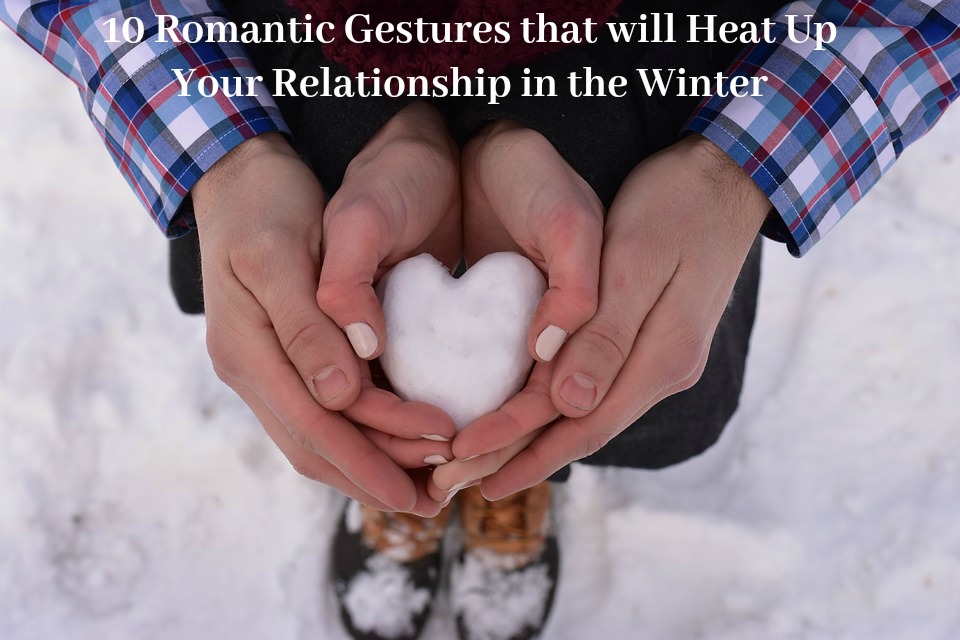 10 Romantic Gestures that will Heat Up Your Relationship in the Winter
When your spouse is in the shower, take their towel and pop it in the dryer. When they are done showering, bring them their towel to keep them snuggly warm when they get out.

Do you know what their favorite coffee or tea is in the morning? Find out what they like and then surprise them with some in a new mug that has a meaningful picture or saying on it.

Slip a note into their jacket pocket that says "You warm my heart. Stay warm and cozy today until we can snuggle together tonight."

Find a gift card that has a warm connotation to it and send it to their home or work.

Buy them some hot and spicy chips or candy with a note that says, "I think you're hot and I can't wait to warm up with you later".

If your spouse drives in the morning, take a little extra time to scrape the ice off the car, shovel the snow in the driveway or heat their car up before they get in.

Take a snow day together! Once the kids go to school, ditch work and spend time together even if it is just for the morning. Snuggle up and watch a movie or go play in the snow.

Give them some hot cocoa mix or a bottle of wine with a note that says "Let's heat things up tonight".

If there is frost on the windows or snow on the ground leave them a love note. Making a simple heart in the frost or the snow will surprise them and let them know you are thinking about them.

If the bed is cold, lay on their side before they get in to warm it up for them. Or surprise them with a heating blanket to keep you from getting into freezing sheets.
These ideas are easy and some don't cost a thing. If your relationship is already in a good place then this will keep the romantic fire going. If your relationship has grown cold, doing these things will heat things up and get your relationship back on track before it is too late. It is easy to show love, we just have to make the effort to do it.
Pin this for later. . .