I work at a play based preschool. This means that we do not use direct instruction including anything that could be considered a worksheet. Rather than teaching letters and numbers, we bring them up naturally in the environment like when we are counting the number of acorns the class found or making letters of a child's  name with play dough. My job is to scaffold learning that is child directed as they solve problems and explore interests that come up naturally in their environment.
What is Play Based Learning?
The children are not required to move to various centers or areas of the room. They are not required to participate in groups or projects. They do not have any tasks that are required to complete (aside from classroom jobs like "fish feeder" and "weather finder". Children in our classroom are led by their interests to explore the materials and tools that we have provided them and with our assistance, we teach them to learn through play.
Play-based learning is child centered. It helps a child develop through social-emotional learning. It promotes developing self-confidence and self esteem.  Play based learning emphasizes the importance of creativity and imagination.  It fosters natural curiosity and continues to fan the flames of the intrinsic excitement of learning.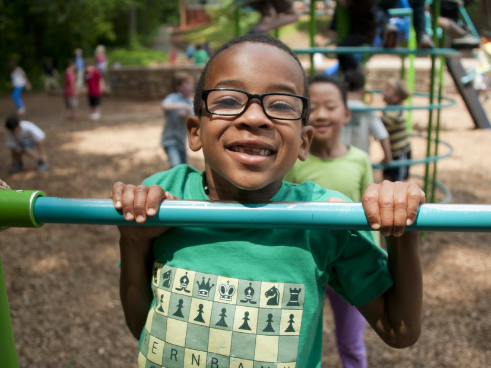 Social Emotional Learning
Social emotional education is a major component of our play based preschool. I believe that social emotional education is one of the most important and valuable things that any person of any age can have in their repertoire. Many of our societal problems stem from people not understanding themselves and others. With a focus on social emotional learning through play, I know that we are helping promote a more positive, creative and understanding future. We teach children to identify emotions in themselves and others. We teach children that emotions are normal and not to be ashamed. We teach children how actions fueled by emotions make other people feel and how it makes them feel. We teach them alternative ways to react, planned ways to act and strategies to communicate their emotions in constructive ways that respect all people involved. It becomes natural for children to regulate their own emotional reactions, honor each other's ideas, feelings and needs and work together while doing this.
Play Based Classroom Centers and Areas
The classroom space in play based learning preschools are broken into centers. I will give some examples below that should be in every play based classroom but it is possible to add other components as well such as a gross motor area for bad weather days, for example. I also think it is beneficial to have an open area where if a child or children have started a project, they can keep it in this area to work on it continually as long as it piques their interest.
Play based classrooms can include ares for:
imaginary play (costumes, kitchen furniture, dolls, puppets, etc.)
sensory table (water, sand, tools for scooping and pouring, etc.)
blocks and building (large wooden blocks, vehicles, cardboard bricks, etc.)
science exploration (live plants, magnifying glasses, scales, bugs, seashells, rocks, etc.)
reading and literacy (books, felt story boards, letter magnets, etc.)
math (counters, measuring cups, geometric blocks, number lines, rulers, etc.)
manipulative such as salt dough, play dough, shaving cream, cookie cutters, rolling pins, cutting tools, etc.)
art (all types of: papers, paints, pencils, crayons, markers, glues, scissors plus other things to create with such as glitter, fabric, craft sticks, etc. Also easels and an area to display student art work are key components of this area.)
music (all types of instruments and ways for students to write their music)
snack areas where children can nourish their bodies with healthy foods.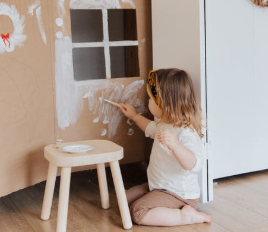 Diversity
In our classroom we have costumes, dolls, play foods, puzzles, books and many other items that represent a wide variety of cultures, races and types of people. Inclusion of everyone is a huge emphasis. We don't pretend that we are all the same, but rather celebrate the differences that we all have that makes us uniquely who we are. Diversity comes effortlessly and naturally in our classroom and therefore in the minds and hearts of our students.
Elements of play-based learning
Play-based learning includes the following elements:
Self chosen: A child chooses what they will play, how they'll play,  who they will play with and for how long. IF a child is wandering or apprehensive, a teacher can invite or suggest play but the child determines the rest.
Enjoyable: Children enjoy and emotionally benefit from the activities they chose to participate in. This emotional aspect is important. Normal frustrations or disagreements during play are resolved through social emotional learning with help from teachers.
Unstructured: A child is encouraged to use their time to explore and discover the classroom as directed by their own interests, not by any prescribed agenda.
Process-oriented: There is no intended outcome or learning goal. Instead, the process of play is what is important.
Make believe and Imagination: Play often involves imagination, 'make believe', or 'playing pretend'.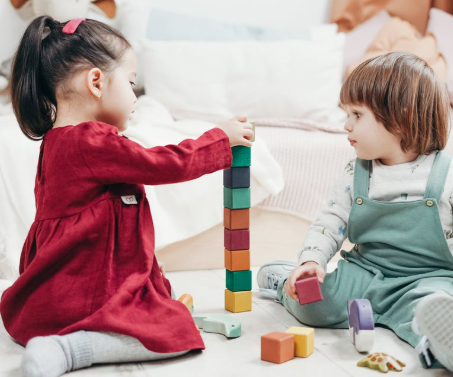 I believe child centered and play based learning is the most important way for children to experience learning in their early years during preschool. Some academic focus in not necessarily harmful when presented in positive ways, but it should not make up the majority of the time or activities for our little ones. I like that children in our classroom are not challenging themselves to please teachers with the right answers or learning to feel ashamed of their natural instincts. I love that our little people are learning to love themselves and each other. That they have time to express themselves and just be happy.
Here are some resources for you to use at home!


Pin this for later . . .