It does not matter whether you are looking to embark on a small redecoration in your home because you are tired of the appearance of it, or you have just moved into a new property, there are some interior design tricks that you can use to save you time and money. Not only this, but these tricks can also have a stunning effect on your property, helping you to achieve the stylish look you are aiming for. After all, sometimes it is the little things that make a massive difference. With that in mind, read on to discover some of the clever interior design tricks that you can use to completely transform your property.
Wallpaper or paint your bookcases
This little trick can make a bigger difference then you may realize. It will provide an instant pop of color, which will re-energize and brighten any room. It is incredible to see how something as simple as a coat of paint can transform a space. However, it takes what may have been a boring and standard bookcase and it makes it the feature piece within any room. This means that you do not have to splash out on expensive furniture or accessories in order to transform the feel of the room in question. Needless to say, if you do not have a bookcase, this does not mean that you still cannot take advantage of this interior trick. There are lots of fun and interesting places around the home whereby a pop of color would be welcome too. This includes your ceiling, as well as inside closets and fireplace mantels.
Buy a hanging pot holder
A hanging pot holder will completely transform your kitchen. Kitchens are supposed to be inviting and warm in their ambiance. We spend a lot of our time in here, whether entertaining or preparing meals. A hanging pot rack is beneficial because it is convenient and it also looks nice and elegant. After all, if there is one thing that kitchens do not have enough of today it is storage and pots and pans can take up a lot of room. Instead, by having them elegantly hanging over your kitchen island or any other part of the kitchen, you have an amazing design feature and you also free up some much-needed storage space in the process.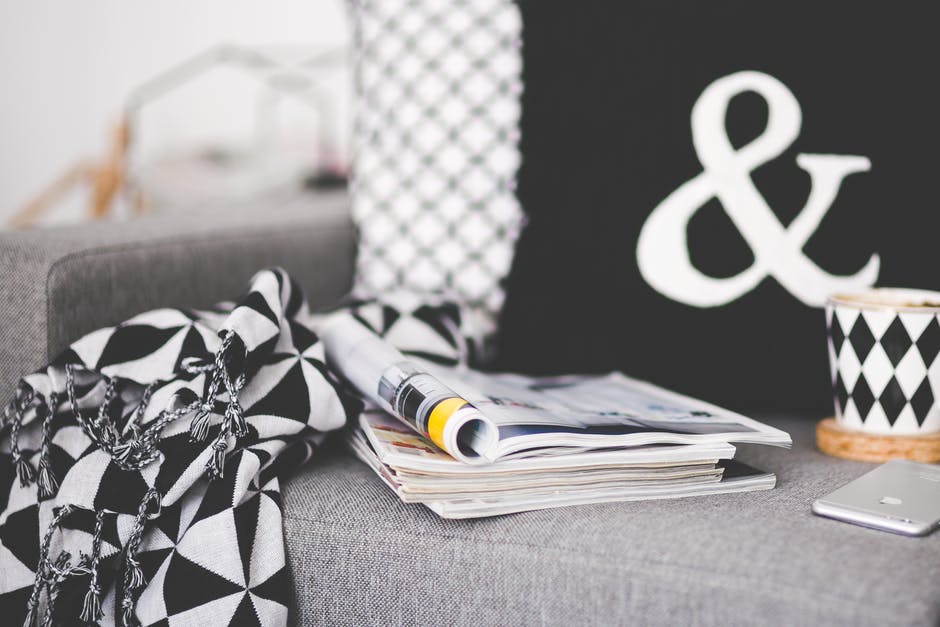 Mix patterns and textures
We have long been told that we should never mix and match around the home. But this is a rule that has been broken and to good effect. There is nothing wrong with mixing textures and patterns. You can also mix the inexpensive with the expensive as well as the old with new. After all, your home is supposed to be a representation of who you are as a person. It is meant to be an expression of your personality. If everything is uniform and you have taken your property from an interior design magazine and copied it within your home, it does not say anything about who you are. As people, we are a mix of different emotions and different personality traits. Therefore, your house should be a mixture of different things too. Just because you have a few antique pieces, for example, this does not mean that you cannot have elegant and modern elements within the home as well.
Use paints with unique finishes
It will come as little surprise to you that painting is one of the most effective and easy ways to transform your home and give it a new appearance. However, when we look for paints we often tend to focus on what colour to choose. But you have more choices than this. You can order faux finishing paint and supplies, which will give your paint a natural finish, for example, it can replicate gems or sandstone. This adds a unique touch to your property by giving your paint texture. This is also ideal for those who want a neutral color palette within their property but are worried that it will be a bit boring. This will not be the case if you opt for textured paint instead because it has an extra element of intrigue.
Add a light to your living space with a decorative mirror
Mirrors add much more to the home then a lot of people realise. Not only do they provide you with a place to check your hair and make-up before you leave the house, but they look incredible and they add instant light to any room they are placed in. If you take a look on the Internet today, you will see that there is a huge selection of mirrors to choose from. This includes ornate mirrors and those with stunning designs. No matter what type of mirror you go for, you can be sure that the mirror will brighten up the room in which it is placed. They are especially beneficial in rooms that are awkward in shape or do not have a lot of natural light flowing through them. If you place your mirror directly opposite the windows, it will add instant light to the room. This is because natural light will reflect off the surface and bounce back into the room in question, which will open it up and make it appear bigger and more welcoming.
As you can see, it does not take a lot of effort or a lot of money to make your home look amazing. Next time you embark on a bit of redecoration, make sure you follow the advice that has been provided above.