­There's something about swings that put you in a relaxed state. The gentle sway can put you in a restful and meditative state, a perfect way to unwind at the end of a long day. The good news is that you don't have to go to the local park to enjoy a good swing set. You can have this right in your own home; the first thing you need to do is to pick from the many available options for hanging porch swings.
Here are some handy tips for you to consider before going ahead and buying your very own hanging porch swing.
Find a Spot
As the name suggests, a porch swing is most ideal on the porch. However, it does not necessarily have to be limited to this section of the house alone. You can also put it on your backyard deck or patio if you want.
The foremost consideration you need for this part is to make sure you have enough space for it. Will the piece comfortably fit in your desired space?  Will it be able to actually function as a swing or will it be too cramped for that? What about the floor clearance? Is the height of the patio enough for you to comfortably hang the porch swing, or will it be too high or too low and close to the ground?
These are important questions to ask because it matters for the question of who will use it? If there are children in your household, then, of course, you would want them to enjoy this feature as well, but safely. A porch swing set up too high makes it difficult for them to climb, but easy for them to walk into. Meanwhile, a lower swing could make it more accessible for them—which is great as long as it's always with adult supervision.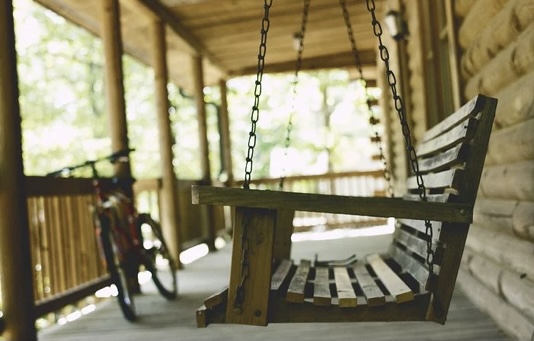 All of these things are immediately bundled into the simple factor that is finding the spot for the porch swing. So make sure you have the best location available so that everyone in your family can enjoy it.
Choose the Material
Hanging porch swings can come in different materials. There's wood, plastic, steel, wicker, metal, or sometimes, even wrought iron. Choosing the material ultimately boils down to your style and aesthetic preferences. You can go for a loud color that completely goes off from your home's general color palette, to give the space that surprising pop. Or you can find one that fully complements the theme and décor of your home.
Whatever design choices you make, what's most important is that the materials used for the porch swings are of quality. Especially because you'll be riding on a hanging seat, basically, you need to make sure that it's going to be sturdy and reliable enough to trust your full body weight on it. A well-constructed porch swing should be able to let you enjoy the use of the furniture safely.
Environment Matters
You may not think much about this when buying outdoor furniture, but actually, this is very important. Especially if you want your outdoor piece, such as hanging porch swings, to last a good while, you need to check that the material is built to withstand the elements, and can protect itself from easy wear and tear.
For example, if you're located in a region that is dry and warm, wicker and wood materials can be good options. They're easy to clean, and they fit the atmosphere. For those living in moist or foggy and rainy regions, plastic materials are best. They're great for easy clean-up and, most especially, are waterproof. Even with rain or moisture, you won't have to worry about the material giving in.
However, if you're in an environment that's windy and snowy, a wrought iron piece is the best choice. For your hanging porch swing, this means more weight to keep it from being blown away by strong windows. The wrought iron material also withstands heat or cold very well, making it ideal for locations constantly inundated by rain or snow.
With these simple tips, you can look forward to finally being able to enjoy your very own hanging porch swings. Also remember to call a professional to help you install it, in case you're not that confident about your building skills. It's for your safety and convenience, too, anyway.