Those first few weeks of the newborn stage are special, aren't they? You're both learning about each other, you're loaded up on those feel-good hormones, and your little one is The Most Beautiful Thing you've ever seen. We get it. We've been there…those newborn babies really are the definition of pure bliss. And while you don't need much in this stage (truly!), it is nice to have a few essentials on hand before your bring home baby. Confused on where to start in an overwhelming world of must-get babygear? We've made a short and sweet guide for you.

Here are the 5 newborn essentials you actually need:
A Newborn Carrier
Although staying snuggled in bed for days is a dreamy way to spend time with your new little one, eventually, you're going to want to venture out into the world. A newborn carrier makes getting out easy—supportive of your newborn's head and body in a safe, ergonomic position, newborn carriers help to keep the world at bay. Ergobaby's carriers are specifically designed to grow with your baby from week one all the way through 48 months. With a detachable storage pouch, lumbar support for your back, and fully machine-washable, these carriers are at the top of the essentials list for good reason.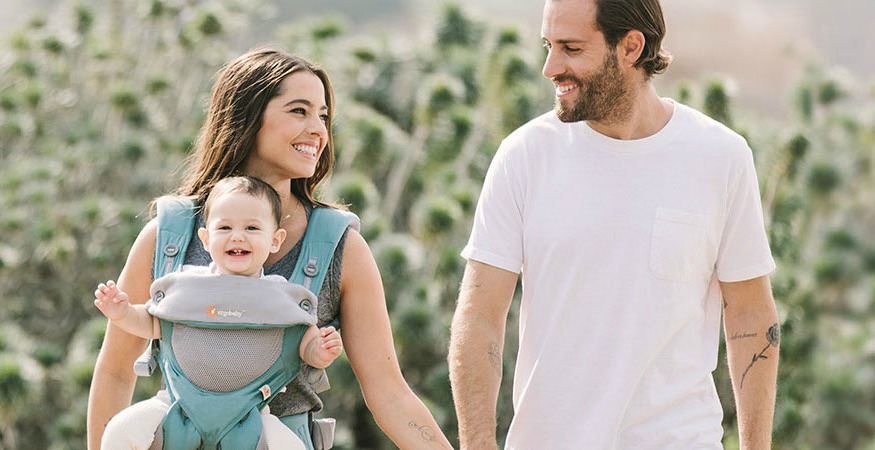 A Feeding and Nursing Support Pillow
Regardless of feeding style (breast, bottle, or even a combination of both), a feeding support pillow will make all the difference in the world for back pain and support. When you feed your child, the stress on your neck and shoulders as you gaze down at your baby leads to some serious muscle strain. A supportive pillow helps to combat this issue. And as a bonus, they're also fantastic for when Baby is a bit older—they can recline or sit, assisted, in the scoop of the pillow.
Clean Hands
Keep a bottle of lightly scented (or unscented) handsoap at every sink…and ask that every guest use it before playing with your little one. Requiring that all guests have clean hands before holding or touching your baby means that any potential sick germs are kept at bay. Something to keep in mind? The CDC recommends 15 to 20 seconds of vigorous hand washing to effectively kill germs.
Lots of Lotion
In the diaper bag, on your nightstand, at your changing station…seriously, keep lotion with you at all times. All that hand-washing will cause some painfully chapped hands, so a deeply replenishing hand lotion is key. Typically, a good moisturizer will contain these key ingredients: shea butter, lanolin, and a deeply moisturizing oil such as argan or jojoba oil.
A Reusable Water Bottle and Accessible Snack Foods
When baby arrives, it'll be hard to do anything but sit and stare at your new little life. And although your appetite might be overwhelming at this stage in your pregnancy, trust us…it can be pretty easy to forget to eat or drink when you're busy staring at your new little one. Keeping full water bottles around the house and in your car means you'll have no excuse not to stay properly hydrated. Additionally, keep nutritionally dense foods on hand; Nuts, seeds, dried fruits and a protein bar help to keep your energy levels up during these days of little sleep.