*This is not a sponsored post but does contain affiliate links. Opinions belong to jenny at dapperhouse.
Lying is part of life and human nature. As role models, teachers and parents we are responsible for teaching our children the differences between right and wrong. The act of lying is something that most every child experiences and learns about at different stages of life. Books are such a fantastic way to reach children with messages, so I have compiled some fantastic books that will help you and your child figure out the complexities and moralities of lying.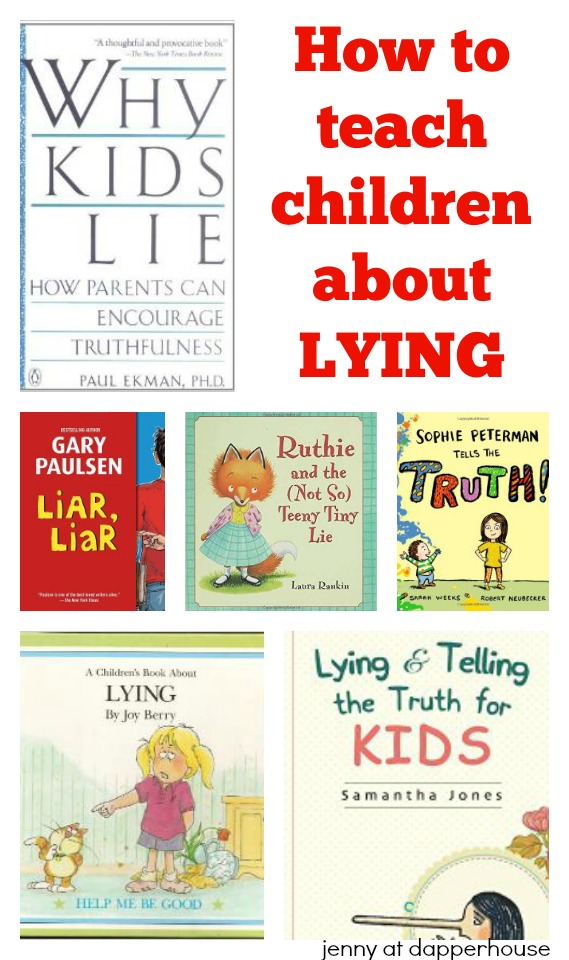 Reading these books to young ones before there is an issue helps lock these lessons into place. While reading these books with your child, spark meaningful conversations about your families personal beliefs about lying. Help your child make connections from the book to situations in their own lives when they lied or were lied to and talk about how that made them feel.
Books About Lying

Big Bad Wolf's first visit to his local library (as related in Mind Your Manners, B.B. Wolf) was such a success that he returns to tell his version of "The Three Little Pigs." His outrageous spin on the tale draws skeptical remarks from his audience: "Isn't that wolf's nose getting longer?" asks Pinocchio. "It's a cooked-up, half-baked tale," snaps the Gingerbread Boy. And "Tell the truth, B.B. Wolf!" squeal the Three Little Pigs. Caught in his own lie, B.B. explains that he is a reformed villain: "Now I'm begging on my knees, Little Pigs, forgive me, please!" How B.B. turns his bad old deed into a good new one provides a happy ending to this fun-to-read fractured fairytale.


Tell the Truth, B.B. Wolf

Sophie Peterman Tells the Truth!

Lying & Telling the Truth for Kids: Teach Your Kids How to Tell The Truth

Be Honest and Tell the Truth (Learning to Get Along®)
Knowing lying is wrong, Howard chose to do it anyways. Why not? It was easy and he got away with it most of the time. This book for children age 4 and up explains reasons people lie, why they shouldn't, and how to go about making the right choices. Tips and lessons are included. The sixth book in the award winning Howard B. Wigglebottom series. Teacher and counselor endorsed

Howard B. Wigglebottom and the Monkey on His Back: A Tale About Telling the Truth
Ruthie loves little things–the smaller, the better. When she finds a teeny tiny toy on the school playground, she can hardly believe her luck. There's just one problem: it belongs to somebody else! Ruthie insists the toy is hers, but deep down, she knows better. How could one little toy turn into such a great big problem?


Ruthie and the (Not So) Teeny Tiny Lie
The combination of catchy photos spiced with humor and an ethical message
appeals to the hearts of children and parents alike.


Children's book About Lying and Telling the Truth (kids books age 3 to 6)Illustrated kids eBooks 3-8(Early learning ) Kurious Kids Funny Bedtime kids story / Beginner Readers Non-Fiction about Lying

A children's book about stealing (Help me be good)

A Children's Book About LYING (Help Me Be Good Series)

Why Kids Lie: How Parents Can Encourage Truthfulness

Melvin Monkey, Please be HONEST: A Picture Book for Children about a Monkey who is not Honest(Encourages kids to be honest and tell the truth) (Monkey Lessons)

But It's True!: Lying (Tough Stuff for Kids)

Lucy tells a lie (Farm house books Book 1)

Hermie and Wormie in the Flood of Lies (Max Lucado's Hermie & Friends)
This volume of Greener Grass The Truth About Lying is the story of the effects of lying. Chirpy, the chicken, instead of admitting that he spilt the water trough blames his best friend Daniel, the gosling, getting Daniel into trouble. As the lies build up on each other Chirpy starts to feel regret but still says nothing until his mother discovers one of the lies and confronts him, Chirpy to spill the beans and finally clears Daniel of all wrong doing.

The Truth about Lying: Greener Grass Volume 3

Help Me Be Good Series Box Set
Kevin doesn't mean to make trouble when he lies. He's just really good at it, and it makes life so much easier. But as his lies pile up, he finds himself in big—and funny—trouble with his friends, family, and teachers. He's got to find a way to end his lying streak—forever. Ages 8-12


Liar, Liar: The Theory, Practice and Destructive Properties of Deception
Do you have advice to share about how you have handled the subject of lying with your child?