Credit card processing costs can eat up a business's bottom line if they aren't managed carefully, so when your business's regular cycle is disrupted by unexpected global events like the COVID-19 pandemic, you need to know how you can control your costs. When it comes to making your processing expenses work for you, there are two factors. Raw cost is one, and saving on fees can control that cost quite a bit. The other side is making sure your profit model accounts for these expenses.
Sometimes you will have a limit to how far you can afford to discount your goods while still covering your costs. The more you save on credit card processing fees, the more competitive you can be with loss leaders and short-term closeouts. Flexibility in your promotions like that can help you capture more business, even when demand is down.
Cash Discount Programs
One of the best ways to defer the costs of credit card processing is to offer a cash discount program. Federal regulations have extended the right to offer such a program to all 50 states, as long as a few rules are observed by the merchant. The marked price must be the price that is charged, with the lower cash price appearing as a discount to the cost of the item instead of handing credit card customers an upcharge. That maintains transparency in your pricing, and that's essential. The other part of cash discount credit card processing programs you need to observe carefully is the requirement that the program be clearly disclosed to the customer.
The COVID-19 pandemic is putting pressure on regular supply lines, and the result has been a shortage of coinage in many communities across the country. Cash discount programs encourage customers to put money back into circulation to save, and they save you money at the same time.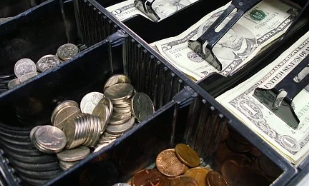 Surcharge Programs
Another option is to add a surcharge to credit card transactions to cover your fees. Currently, adding a surcharge is legal in 44 states, so it's important you do your research. Like cash discounts, the surcharge program allows almost all the costs of credit card processing to be passed on to customers who rely on that method where they are legal to use. The one that works best is largely dependent on how the programs are marketed and how the local community reacts to the messaging around them. It's worth taking some time to put your finger on the pulse so you know whether a cash discount will provide more incentive than a surcharge or less.
Get Free Equipment With a New Processing Agreement
Another way to save is to find a path to upgrading your equipment without laying out a lot of money. There are are a lot of processors who offer discounts on equipment when you sign an agreement for service. A few of them offer select models like the Clover Station 2.0 for free with certain contracts or levels of service, and they frequently have options to support the full range of electronic payment options these powerful POS stations can accept. Getting that new equipment at discount or even at no cost could mean accepting new payment options without spending over your budget. For mobile businesses and table side service, look for offers that bring you something more compact like a free Clover Flex.