You already know a bit about safe pool parenting. But what about making your pool an attractive summer gathering option? If your pool is old and rundown, a remodeling may be the best way to improve your experience. In fact, the right remodeling can leave you feeling as though you have a completely new pool. Let's look at 9 key tips for remodeling your pool.
Tip 1): Pool Cleaning
One of the very best things you can do for your pool is a good thorough cleaning treatment.
Regular pool maintenance is absolutely essential – for both cosmetic and health reasons. If your pool isn't cleaned periodically, the chemicals you need to keep the water clean and safe can easily go off-balance, and this can jeopardize your pool equipment. In fact, a failure to clean often contributes to a situation in which people need to make renovations in the first place.
If you're planning to renovate, definitely make sure to clean your pool first.
Tip 2): Change the Tile and Paint Around the Waterline
Whether you're looking at a complete overhaul or you simply want to improve the look of your pool, changing the tile around the waterline is one of the best things you can do to make it look fresh and new and generally like a different pool altogether.
This sounds like a very small thing, but you'd be surprised by the aesthetic effect. The waterline tile is one of those things that our eyes are drawn to, so changing them and installing a fresh design is one of the better ways you can make your pool look new and different.
"Your pool area can also benefit from a fresh coat of paint," says Teaberry, a team of Colorado painters. "If your pool looks great but your exterior home doesn't, it can detract from the aesthetic you're going for."
Tip 3): LED Lighting
What works for your lawn can also work for your pool. Adding LED lighting to your lawnscape isn't the only way to brighten up your outdoor area. More specifically, LED lighting is one of the better ways to go: it is both low-cost and relatively energy-efficient, not to mention aesthetically appealing.
When installing LED lighting in your pool, consider trying different colors below the water, or in different parts of the pool area. Some LEDs can change color, and if you install LEDs of this kind you can put on light shows.
This is probably one of the more fun things you can try with your pool, and it will have the effect of making it look even more luxurious and interesting.
Tip 4): Energy-Efficient Equipment Upgrades
Another thing to think about is energy-efficient technology. Variable speed pool pumps are a good way to cut back on energy expenditures, and in some cases, you may be able to get an energy rebate from your utility company.
Solar-powered lights and heaters are another option to consider. You may find you like the look as well as the convenience of power generation.
Tip 5): Pool Automation is a Thing
Pool technology has not been exempt from the general rush to automate, and as a result, there are a number of automated gadgets you can obtain for your pool.
In particular, you might consider a robotic cleaner, an automatic pool cover, and an all-in-one pool automation system, operable by smartphone. Another option is an automatic leveler, a device which tops off, or levels, the pool when evaporation causes the level of the water to drop.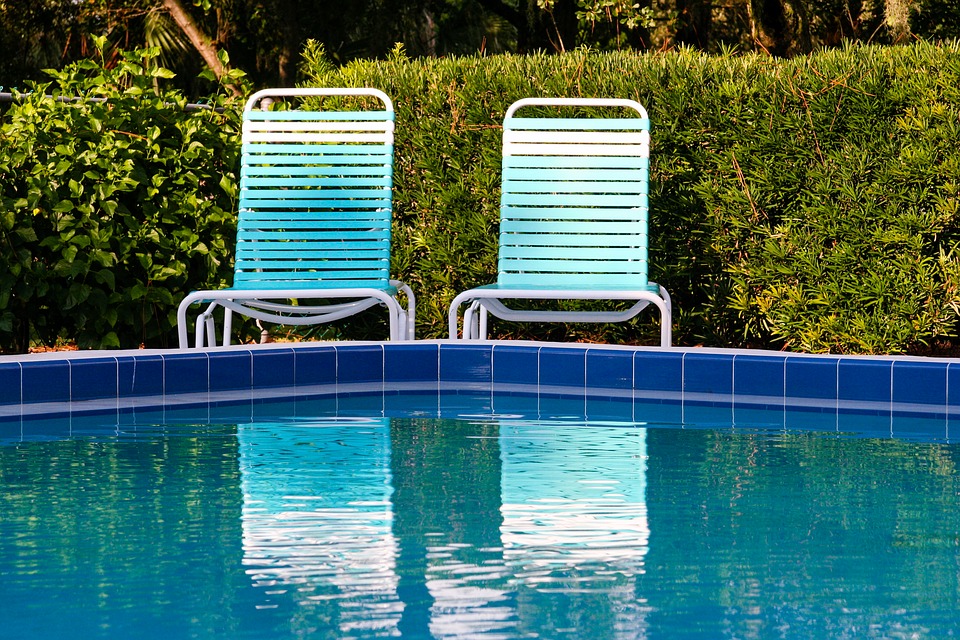 Tip 6): Handrails Don't Have to Burn Your Hands
Handrails—who even thinks about handrails? Here's the thing: shiny metal handrails are nearly ubiquitous, but if you're living somewhere with considerable heat, they can be unpleasant on the hands and even burn them.
Instead, consider powder-coated handrails. Don't be thinking baby powder—this is a complex process that applies a powdered finish to a railing. The result is hardy, durable, and easier on the hands in the heat.
Tip 7): Fire Pits Can Be Stylish
If you're in the mood to get adventurous, and you have the money for it, consider installing a fire pit. A small fire pit with stacked stones looks amazing and will lend a great deal of class to your yard.
Of course, a fire pit can also be the perfect place to have a social get-together in your backyard. Barbeque and pool party time?
Tip 8): Outdoor Kitchen
On the subject of fire pits and barbeque, outdoor kitchens can also be a great way to go. A gourmet outdoor kitchen can be a high-class upgrade, one which is perfect for dinner parties.
Tip 9): Pool Resurfacing
Resurfacing your pool will take some doing, but it is one of the better ways to renovate. Smooth pool plaster is a common material, but if you have the budget and you're looking for something special, consider upgraded pool surfaces with smooth pebbles, or stones, shells, maybe glass beads.
Conclusion
Renovating and remodeling your pool can be an amazing way to enhance the value of your pool and increase your enjoyment. Follow any of these 9 tips, and you'll be on your way to a new pool experience.