My husband went to THE OHIO State University for college where he also played soccer. He has many friends and fraternity brothers who still live there as well, so we go visit Ohio whenever we can. This winter is a great time to go because of the beautiful family friendly holiday light shows that will be going on this season. Here are some that you might want to check out as well.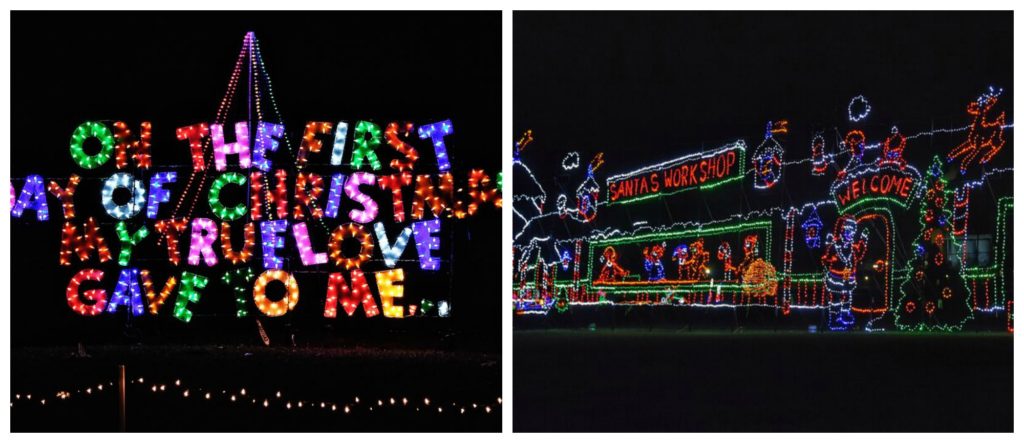 Wildlights at the Columbus Zoo and Aquarium – One of the most cherished holiday traditions in central Ohio runs from November 16 – January 6, 2019. Featuring 3 million LED lights, this is the 30th year of the annual event. During Wildlights the zoo's 500 acres are transformed into a winter wonderland featuring an animated light show, holiday star light star bright seek-n-find, Santa's holiday home, Polar Bear Express , camel rides, a 1914 historic carousel rides, meet and greet with Rudolph and friends and access to a variety of animals, including polar bears, reindeer, lions, gorillas and more. This display is located in Powell, Ohio.
Butch Bando's Fantasy of Lights – A secret exhibit that falls under the radar, but shouldn't be missed, this annual exhibit will run from November 16-January 1 and is even open on Thanksgiving, Christmas Eve, Christmas Day, New Year's Eve and New Year's Day. This drive thru light show is located right on the water at Alum Creek (the largest inland lake in Ohio) and features over a million LED lights (and over 450 displays) that are more vibrant and ecofriendly.  Taking place for more than 18 years and started by Butch Bando, his children bought the display after his death and renamed it after him. The three mile display features animated lights, synchronized music displays that you can sync to via their radio station and visits to Santa's House to meet Santa and enjoy free hot chocolate. A portion of proceeds from the event go towards Recreation Unlimited and A Kid Again. Both organizations help children with disabilities or life threating diseases enjoy recreation activities and interact with other children facing similar challenges.  Organizers also offer three sensory sensitive nights for children with Autism, so they can enjoy the display, while not being startled or scared. This display is located in Delaware, Ohio and different pieces of the display are built by high school students in the welding vocational program.
Holiday Lights on the Hill – Located in Hamilton, Ohio, sip your mug of hot cocoa, warm up the car, and sing along to the holiday tunes to begin your tour of Holiday Lights on the Hill, an award-winning, drive through lights display at one of the area's most loved parks, Pyramid Hill Sculpture Park & Museum. This winter wonderland is a twinkling twilight of Christmas spirit and magic. Holiday Lights on the Hill will dazzle you with over 2 million lights covering the surfaces of their sculptures and transforming the park into a dreamy, seasonal sanctuary. By day, Pyramid Hill is a 300+ acre sculpture park that showcases over 60 pieces of monumental sculpture art nestled in the breathtaking meadows and rolling hills of the park. But by night, Pyramid Hill turns into the best holiday light display in Hamilton. Visitors of all ages fall in love with the parks enchanting Christmas spirit and enjoy taking their kids, grandkids, and entire families to the park to see the lights each year. It's a tradition that you'll look forward to for years to come. 
Light Up Middletown – Located in Middletown, Ohio, this annual display takes place from Thanksgiving to New Year's Eve. This driving tour of lights takes you through a 100 acre park and features several themed displays, including the American flag, Sea Serpent in the reflecting lake, penguin village and more.