12 Awesome Life Hacks for Parties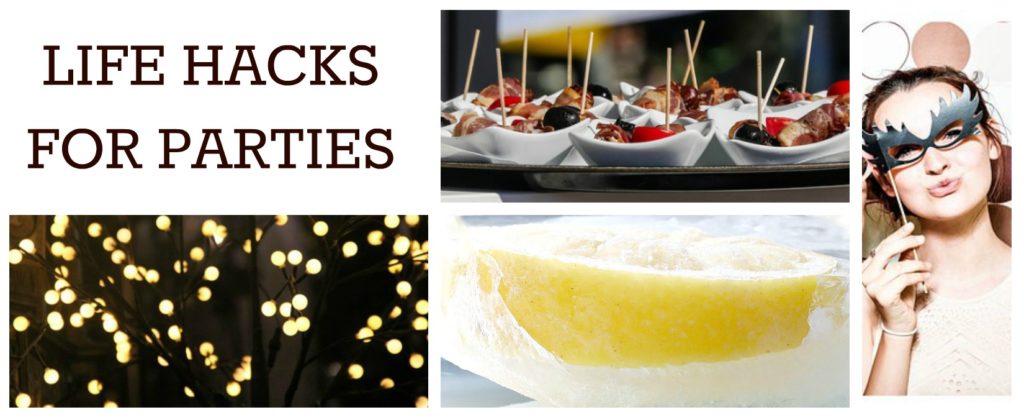 Are you entertaining for the holidays? December is a big month for parties and that means you need some life hacks to make things easier. From food and drinks to lighting and stains I have a lot of ideas that will help make your party a success.
It is important to keep an empty spray bottle or two around.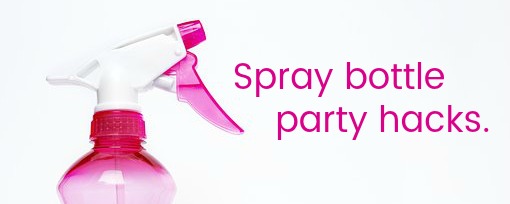 You want to wear a party dress or evening jacket that you forgot to wash and it has a little body odor funk. In the spray bottle mix 2 part water, 3 parts vodka and 1 part lemon juice. Mist the areas that smell with the solution and wave dry. The vodka will neutralize the bacteria and the lemon will deodorize. The alcohol smell will fade and can be masked with a little perfume or cologne.

Does your furniture, bedding or carpet need a refresh before guests arrive? You can use fragrance sprays sprays or for a fraction of the cost, you can make your own. Get your favorite smelling laundry softener and mix ¼ cup with a full bottle of water. Mist the room and get a light, fresh and clean scent right away.

Someone at the party spilled sauce down their shirt. Don't let them spoil the mood. Grab your spray bottle and fill 1/4 full with cold water. Add 3 squirts of blue Dawn dish washing soap and 4 cap fulls of hydrogen peroxide. Sprinkle a little baking soda over the stain, then mist with the spray bottle and wipe with a damp washcloth.
Serve lots of water along with alcohol to keep guest's heads clear.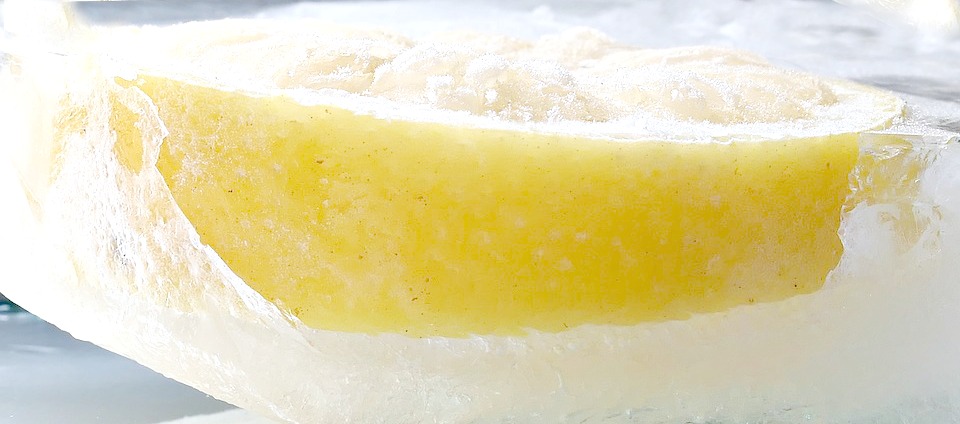 Have clear glass pitchers with different combinations of fruit and herbs inside so that there is a flavored water that appeals to everyone.

Serve fruits and veggies that have a high water content. Appetizers on cucumber slices, chocolate covered strawberries, chopped tomatoes in pico de gallo and melon balls are all great ways to stay hydrated and dilute the drinks.

Put out fun ice cubes in different shapes that go along with your party theme. Make ice with fruit and herbs inside. People will get a kick out of the details and are apt to use more.
Lower the lights so people feel more comfortable and so it sets a mood. Manipulate other types of lighting to make guests look and feel beautiful.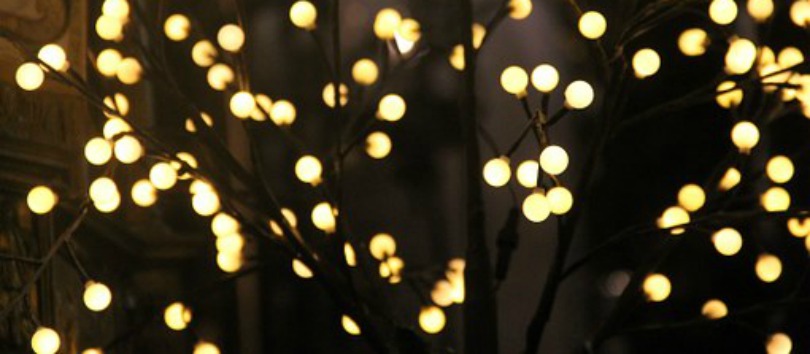 Using LED candles and twinkle lights eliminate the fire hazard of lit candles and let you not have to worry about them all night.

Fill balloons with glow sticks and float them in the pool or string them in rows on the ceiling. Put them together to make tall balloon bouquets for end tables and dark corners.

Use battery powered mini-strand lights to wrap around banisters, table and chair legs, and along shelves and cabinets.
Utilize muffin tins so you can expand the choices of foods that you serve.

No one is going want to see a big bowl of stuffing on a party table, but people LOVE stuffing. Butter some mini muffin tins and fill with cooked stuffing. Bake for 8 minutes or more until the outside is hard enough to keep the stuffing muffins held together. Plate these as appetizers with some whole berry cranberry sauce on top.

Don't just stop at stuffing. Use muffin tins to make bite sized versions of other foods you guests love such as mac-n-cheese, crab cakes, meatloaf and hashbrowns. You could even take this time to make some mini pot pie bites!

Don't forget about desserts! Cheese cakes of all kinds can work in mini or regular muffin cups. So do pies, brownies, cakes and even little jello shots. (Just make sure to grease your tins well so that the desserts look good coming out. Instead of having dinner plates and forks for guests to balance, you can have cute toothpicks and small plates. Plus all the small foods look awesome and let guests try a little of everything.
Pin this for later . . .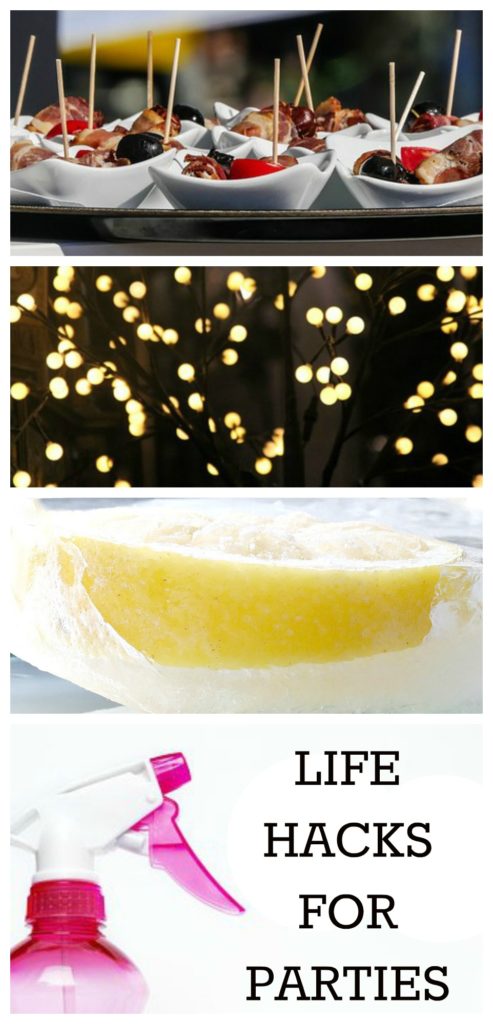 What life hacks do you have for parties?