I am in my late 40s and deal with a host of skin issues. I have large pores all over, heavy wrinkles around my eyes and brown spots from sun damage. YIKES! So, I try a lot of products. For this make over I listed the products that I use. I usually do all my shopping on amazon or I will go to ULTA if I am running out. I rarely go to the mall for things nor do I have a budget to buy things for myself, so you will not see me perusing high end makeup counters. I hope that you like this makeup tutorial and get the results you are looking for.
Step 1. Wash your face. Use a different cleanser for your face and your eye area. Then, prep your skin! Apply your moisturizer that have an SPF. Use different moisturizers for your face and eyes. If you have any eye creams or treatments use those as well. I also used a pore filler and a primer base.
Step 2. Start by applying your foundation all over your face with a flat top kabuki brush. Use circular motions to apply evenly.
The trick to mature skin is to use the foundation sparingly in areas that are creased and wrinkled. While you are applying foundation with the brush, you can smile and straighten your face to see if the product is getting caught up in the lines. If it is, buff it out with the brush. You can also add more foundation to other areas during this same process.
Then, use a blending sponge over your entire face, especially around eyes, corners of your mouth, forehead wrinkles, etc to create a flat surface. Do this by tapping the blending sponge without rubbing or pulling the foundation off of your face.
Step 3. I have a blending brush that is specifically for adding highlights and one that is just for bronzer or low lights. Using professional makeup brush sets make a big difference in applying products.
You can see that in general, the highlighting concealer go down the bridge of the nose, middle of the forehead and cupids bow. Then there is another section of highlighter that goes from the hairline to the mid line of the bridge of the nose and up under the eyes.
The trick here is to use a cream concealer that is very light. Use the brush to buff it into the skin rather than have it sit on top of the skin where it will settle into the wrinkles. Never use a highlighter with shimmer or shine because this emphasizes flaws and wrinkles.
The matte bronzer should be more of a  natural dark skin tone rather than orange. Blend it under the cheekbones, sides of the nose, around the hairline of the forehead and bottom of the chin.
Step 4. Use a large, soft brush to apply translucent face powder. You want to use a firm enough hand to apply do a little bit of blending without removing any product from the skin. After the bit of blending all over the face, you want to apply a lot of powder kind of pushing it into the skin with the brush. Wait a couple of minutes and then use gentle circular motions to dust off the excess. This softens and sets the foundation.
Step 5. This is when I do my eyebrows. You can see that like many fashionistas from the 90's I have over-plucked eyebrows that don't grow back. While many brushes are similar in quality and design, I do believe that having the right brow brush is super important. The Sigma Beauty E06 Winged Eyeliner Brush is so precise that it is a must have for eyebrows. You can make lines that mimic hairs and you can make perfect lines.

So, I enlarge  my brows to follow along with the current trend. Whether you are filling in and defining what you have or drawing on what you want to have you need to be slow and careful with your lines. In the pick you can see where I line the top and bottom of my brow to create the shape I want. I prefer to use powders. I am still in the process of finding the one that works best for me.
Step 6. Fill in your brows. My eyebrows are very dark so I use a powder that matches them. I recommend using one that matches your eye brow hair unless they are very light, then go a shade or two darker.
Step 7. Do your eye shadow and mascara as you normally do. If you love shimmer, use it under your eyebrow, at the lower lash line and the inner corner; all places where it will not emphasize wrinkles and lines.
I line my lips and then use an all day wear liquid lip stick.  Always add a bit of gloss to your lips and a light brush of pink on your cheeks and you are ready to go.
Let's be friends on INSTAGRAM.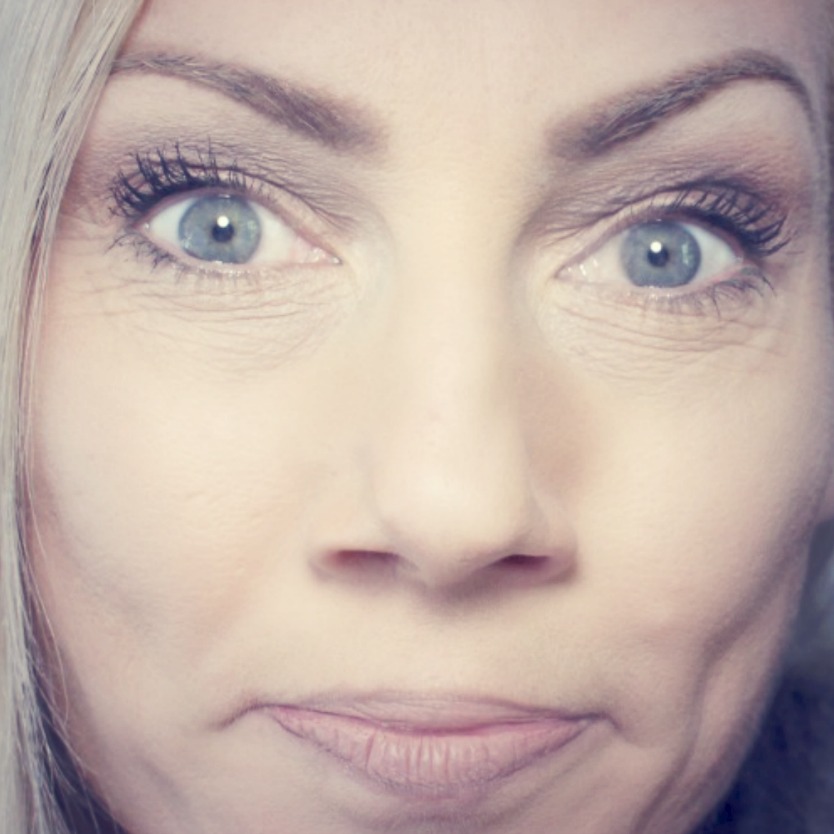 Here are more makeup posts that may interest you. . .
How to do Cat Eye Liner on Mature Eyes
*I am required by law to let you know that if you shop my links on amazon I will make a few cents (so thank you in advance!)
PIN THIS FOR LATER: